Proud to be partners with Edd China
Edd China Workshop Diaries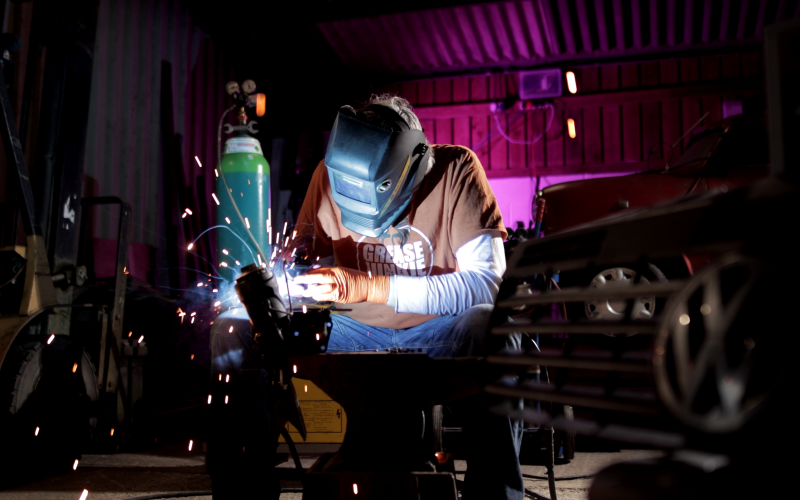 The world's most popular mechanical maestro and former presenter of Wheeler Dealers, is back with his new series, Workshop Diaries. From his workshop in Buckinghamshire, the series follows a range of exciting projects from classic cars to amphibious vehicles, tractors, bikes and planes where Edd explores old and new technologies.
RWC and our family of brands – John Guest, JG Speedfit, SharkBite and Reliance Valves – are proud to be part of the team. As the official Infrastructure Partners we've fitted out Edd's workshop with our SharkBite Compressed Air Ring Main System and are providing push-fit innovation and expertise to help bring Edd's projects to life throughout the series.
For when the pressure's on...
We're delighted that Edd has been using our SharkBite Air products within his workshop. Watch episode 10 to see the system in action!
This push-fit range provides fast, simple and reliable connections using brass connections and anodised aluminium pipe. Available in 10 to 54mm sizes, the robust brass-body fittings can withstand high pressure up to 20 bar, making it ideal for small to large commercial and industrial applications. 
"Just like myself and the Workshop Diaries team, RWC's employees go to work every day to develop fresh ideas to make a tangible difference to performance, safety and sustainability. So, I am delighted to have RWC and its family of brands onboard as the Workshop Diaries official Infrastructure Partner for push-fit innovation."

Edd China

"We are equally thrilled to be an official partner to the Workshop Diaries. Edd is a pioneer, who constantly seeks out new ways to challenge convention with bold and creative ideas, an ethos shared by RWC and many of our customers. Our experts are excited to be working with the Workshop Diaries team to show how our push-fit technology can bring projects to life in a safe, sustainable and efficient way."

Glen Ansell, Director of Engineering Design
Interested to learn more about our products?
Get in touch to find out more about our innovative products