John Guest shaping the future of water technology at Aquatech Amsterdam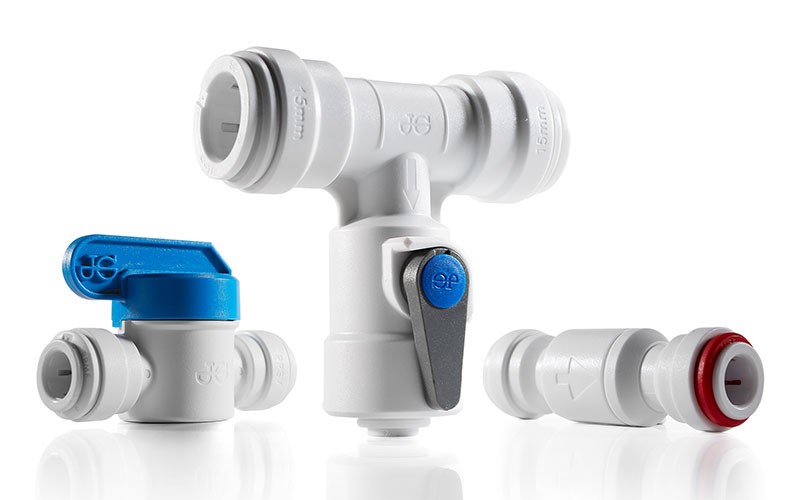 05 November 2019
John Guest, an RWC brand, will be bringing its innovative range of specialist water and drinks dispense products to Aquatech Amsterdam this year, with the aim of helping make installations and repairs quick, easy and reliable.
Taking place between 5-8 November at the RAI Amsterdam convention centre, Aquatech is the world's leading biennial water trade show. Over 25,000 water experts with backgrounds in process, drinking and wastewater, are expected to attend this year, along with over 1,000 exhibitors.
With the water filtration market expected to grow rapidly between 2019 and 2026, John Guest is showcasing how its innovative range of push-fit pipes, valves and fittings, is suitable for delivery and purification of drinking water, from point of entry to point of use through to equipment connections. This includes John Guest's polypropylene and acetal fittings, and LLDPE tubing, which are manufactured in all common inch and metric connection sizes.
Phil Lacey, Speciality Sales Director at RWC, said: "We're expecting a huge surge in demand for our water dispense and purification solutions, as the focus globally shifts towards sustainable water filtration from packaged drinking water.
"We're here at Aquatech Amsterdam to show how our pipes, valves and fittings can be used to connect anything from domestic and commercial water treatment and purification systems, through to drinks dispense machines, all with the same reliability and quality that you'd expect from RWC. Our advanced gripping technology is especially designed to enhance system performance and deliver installation and operational efficiencies without compromising water quality or purity."
Trusted by almost all of the world's leading beer and beverage brands and drinks and water dispense equipment manufacturers, John Guest products have quality and performance approvals from leading testing authorities, such as BSI and WRAS.
Aquatech Amsterdam coincides with the Amsterdam International Water Week (AIWW), which takes place between 4-8 November. Aquatech will support the week with a 4-day seminar programme, looking at the latest trends and developments in the industry.
"We are looking forward to joining the conversation on making water filtration installations easier and accessible for everyone.," said Phil. "We believe that with our existing range of products and all our exciting research and development in the drinks dispense industry, John Guest will have an important part to play in how we use water globally."
Back to articles