RWC's StreamLabs Control Wins HBSDealer's 2020 Golden Hammer Award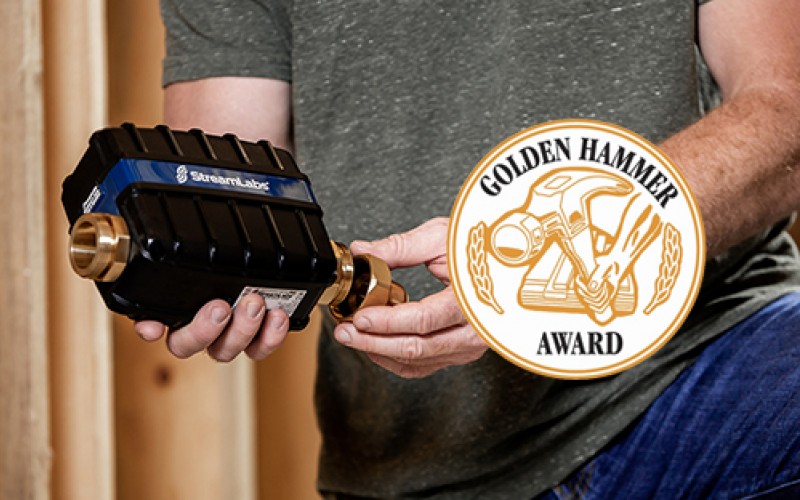 04 September 2020
Reliance Worldwide Corporation is proud to announce that its StreamLabs Control smart leak detection device has won a 2020 Golden Hammer Award.
The award, presented by Hardware + Building Supply Dealer, was established to recognise the best new products in the home improvement industry.
This year's Golden Hammer Award was given to 27 products, including the Control, that exhibit:
Innovation through its features, technology, differentiation and benefits.
Value, including relative price, consumer relevance and functional practicality.
Shelf appeal based on its message clarity and the overall desirability of the product within its category.
The StreamLabs Control helps homeowners protect their property against leaks while delivering peace of mind, even when they are away. They can stay connected and one step ahead of leaks through instant mobile alerts and remote water shut-off abilities to stop problems at the source. And since 45% of homeowners have experienced a water leak or know someone who has, a powerful leak detection device isn't just nice to have. It's necessary.
In this era of smart technology, it's clear the StreamLabs Control provides value to homeowners. But there's also tremendous benefit to contractors, including:
Ability to provide better protection and service to their customers.
Reduced water remediation on jobs since homeowners can stop leaks as soon as they are detected.
Quicker repairs when extensive damage is avoided through remote shut-off.
Installation revenue and increased customer confidence and loyalty.
"With emphasis on innovation, the StreamLabs Control continues to fill a vital niche within the smart home category," said Chris Carrier, RWC's director of marketing for the Americas. "It provides affordable protection against leaks for homeowners or rental property owners —especially compared to the enormous costs of water damage from leaks — and gives them more control over their home, water usage and finances."
To learn more about the StreamLabs Control, please visit www.streamlabswater.com/control.
Back to articles